About us
It is in the middle of the Valley of Loire that Charles Aréthuse, balloonist, developed his professional activity of balloon fights: Art Montgolfières.

The history of Art Montgolfières tells...
Charles' passion was born when he was little. Charles attends his first balloon flight above the castles in the Loire at the age of 6. Then he spends his childhood travelling dozens of miles to follow the balloons and watch them landing.

After getting a degree in holding and local tourism management, Charles obtained the patent of the hot air balloons and his pilot license, then he got the air carrier certificate. In 2005, Charles was 20-year-old when he creates Art Montgolfières and becomes the youngest entrepreneur in the region. Always looking for improvement, he gets instructor ratings in 2006.

Since then the company Art Montgolfières has continued to grow.
In 2007, Charles Arethuse opens two accommodation cottages. In 2008, he extends his flying sites to Anjou and Sologne. He restores an old barn to open three additional bedrooms in 2009. Environmentally conscious, he builds in 2010 a storage shed with photovoltaic system and in 2011 he builds an indoor pool for the well-being of his guests.
Our pilots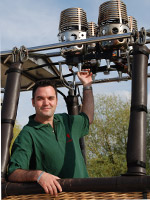 Charles Aréthuse
Pilot and instructor
since 2005 - 1200 flight hours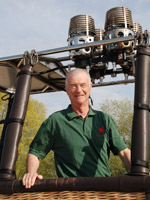 Jacques Bernardin
Pilot - instructor - tester
since 1976 - over 3500 flight hours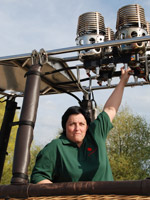 Violaine Morin
Pilot
since 2009 - 300 flight hours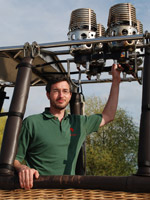 Julien Rose
Pilot
since 2007 - 1000h flight hours
Michel Aréthuse
Pilot
since 2006 - 1000h flight hours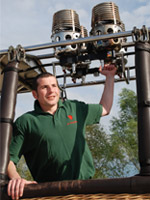 Mathieu Ruby
Pilot
since 2011 – 300h flight hours

Art Montgolfières is today a thriving company with a young, dynamic and passionate team.